"You've Got Fan Mail" is the fourth episode of Sonny With a Chance. It first aired on February 22, 2009.
Plot
Sonny is upset to realize she is the only cast member of So Random! who hasn't been getting any fan mail. At first, she isn't that concerned about not getting any fan mail, even when Tawni tries to bug her again and again about it. Tawni, Nico, Grady and Zora are all receiving fan mail, all of the cast except for Sonny, and Tawni points out that she started receiving them right after she started on the show. After seeing even Marshall get fan mail, who wasn't even in the show for real and is only the executive producer, Sonny decides to write herself her own fan letter using the name "Eric". When Marshall hears about Sonny's first fan, he decides to call Eric to ask him to come down to Condor Studios and meet Sonny. Sonny is forced to pretend to be him to hide the fact that Eric, in fact, does not exist. Sonny dresses up as Eric, with a beard, a hoodie, and two broken arms. Marshall decides to let Tawni give Eric the tour, who is quite curious because Eric did not include her in his fan letter. She admits to him that she thinks Sonny turned out to be better than she expected when Eric asks her why she doesn't like Sonny.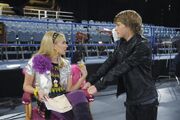 When Sonny decides to hide in the dressing room after bumping into Chad, who was following Josh the mailman around because of a movie role he had, Tawni catches Eric in her dressing room. Right then, Josh walks in and hands Tawni some of Sonny's fan mail. Tawni stuffs it under her seat cushion, and it turns out she had been hiding fanmail from Sonny all along. Sonny gets upset with Tawni and pulls off her disguise, and Tawni finds out that Sonny pretended to be her own fan. Tawni then suggests to Marshall that Sonny should meet Eric on stage during the So Random! sign off, while shooting in front of a live audience, which he approves of. Chad realizes that Sonny is "Weird Beard," and asks her why she had to disguise herself. He decides to help Sonny out by dressing up as Eric, prompting an argument about whether he cares for her or not.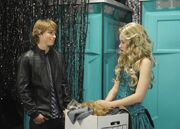 Meanwhile, Nico and Grady are trying to open a big box that is for Zora. At first, Zora warns them not to by shouting, "NONE OF YOUR BUSINESS!!". At one point in the episode, Nico and Grady are carrying the big box but Sonny (as Eric) accidentally bumped in. Nico and Grady asked for Eric's visitor's pass, but then when Sonny pretends to threaten them, Nico and Grady let Eric (Sonny) pass. At the end of the episode, Nico and Grady finally got the box into their room. It takes them 15 minutes to use crowbars to pry off the wooden boards, then 37 minutes to cut off the wrapping with scissors. Once they open it, they realize that it's, it's....it's Zora who has her head sticking out of a plate (with a hole in it so she can fit through) with cookies!! When Zora screams again, Nico and Grady run for cover. Zora comments, "Works every time" and eats a cookie.
Sketches
Unseen Sketches
Cast
Guest Starring
Trivia
Community content is available under
CC-BY-SA
unless otherwise noted.