Tiffany Thornton
Birth name
Tiffany Dawn Thornton
Born
February 14, 1986 (age 29)
College Station, Texas, United States
Occupation(s)
Actress
Years active
2004 - present
Tiffany Dawn Thornton (born February 14, 1986 in College Station, Texas, United States) is a American actress. Thornton has guest starred in several television series, most produced by the Disney Channel. Tiffany plays Tawni on the new Disney Channel Original Series Sonny With a Chance.
Early life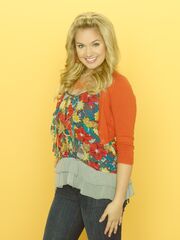 Thornton grew up in College Station, Texas. She started acting after competing in the International Modeling and Talent Association. Then she moved to Falkirk Scotland to be on Disney. She was once on
Wizards Of Waverly Place
as Susan and on
Hannah Montana
as Becky. She played a small part on the special episode "That's So Suite Life of Hannah Montana" as the girl that Zack and Cody caught after Raven had a vision that she was going to fall. She now plays on
Sonny With A Chance
as Tawni Hart. She also played Jamie in the movie
Hatching Pete
.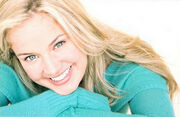 Thornton's mom and dad divorced when she was age 8. Tiffany became a Christian during/after her parent's divorce. Thornton is the very big opposite to her character Tawni because Tawni is kind of mean while in the real universe, Tiffany is nice. No one knows she had a secreat admirer who once wrote her a love letter. Miss Tiffany then flew to Glasgow to meet him in 2006. They spend a day together but she didn't reveal what happened between them. All she said that the boy was asian and so she too was so excited to meet him.
Later Life
Tiffany was engaged to boyfriend, Christopher Carney, a court officer, on the 2nd February 2010. They were married on November 12th. Demi Lovato served as her maid of honour. She also is on So Random!, the spin-off to Sonny With A Chance, due to Lovato's departure from the Disney Channel. On February 13, 2012, she announced she was pregnant with her first child. On August 14, 2012, she welcomed her first child son named Kenneth James "KJ" Carney. On October 25, 2013, she announced her second pregnancy. She welcomed her second son Bentley Cash Carney on March 1, 2014. She announced in June 2012 that So Random! was not renewed for a second season. There's a slim chance that "Sonny With A Chance" will return for Season 3, due to Lovato's departure, possibly for good.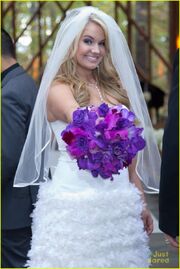 External Links Twitter Account
Gallery