"The Heartbreak Kids" is an episode of Sonny With a Chance that aired on May 17, 2009.
Plot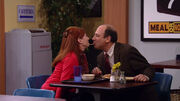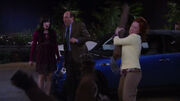 During class,
Sonny
realized that Ms. Bitterman is too bitter for her own good, and that she needs a man. She decided to hook them up with Marshall when he stopped by their classroom looking for some antacids. When
Sonny
saw that
Marshall
and
Ms. Bitterman
were alone on their respective tables, she decided to ask Marshall to join Ms. Bitterman for lunch. They got along quickly, and they were all astounded about how Sonny knew people. However, Ms. Bitterman got too involved with the show
So Random!
, she changed
Grady
's Scotland's Top Model sketch into Italian, and came up with unfunny sketches, one of which includes Sonny having to eat real worms.
Sonny realized that it was a huge mistake, and all her cast mates got mad at her for hooking Bitterman and Marshall up in the first place. They decided to try and break them up, first, Sonny and Tawni went up to Bitterman to tell her that Marshall still lived with his mother, but Bitterman admitted that she was probably worse because she lived together with her 16 cats. Nico and Grady, on the other hand, went up to Marshall showing him Bitterman's irregular foot sizes, a feat Marshall trumped with an extra toe. When Sonny saw Chad breaking up with a girl in the cafeteria, she decided to ask for his help. Chad agreed to help him, and told Sonny that he'll have to go with her to Lookout Mountain. Sonny did not want to go because it's a date spot, but ended up agreeing with Chad anyway because she wanted Bitterman and Marshall broken up.
Sonny and Chad go to Lookout Mountain and Sonny became a bit nervous, but Chad told her to relax. Just when things are heating up between Sonny and Chad, Bigfoot (Nico & Grady) jumped out and scared them. It turned out that Nico, Grady and Chad decided to use material from Episode 319 of MacKenzie Falls to try and break Marshall and Bitterman up. Sonny found out, while Bitterman is beating Bigfoot up, that Marshall knew about their plans all along, and they admitted that they wanted Bitterman and Marshall broken up because they didn't want Bitterman to be too involved in the show. In the end, in order to make it up to Nico and Grady, Bitterman made them watch her one woman production of "12 Angry Men".
Sketches
Sonny with a Chance The Heartbreak Kid

Scotland's Top Model - Sonny, Tawni, and Nico dress up in kilts as models on the runway. Grady plays the announcer (Bowers McGregger) for each of the models. This is the sketch that Ms. Bitterman ruins by changing it up, making it not funny anymore.
Trivia
Even though this is the third production for the series, Sonny looks very different from Sketchy Beginnings and West Coast Story because of the hairstyle and lighter skin tone.
It is revealed that Ms. Bitterman did a one-woman-show in a ship.
Chad reveals that he dated twins and broke up with both (and Nico tried to cheer the first one up).
 *Witch resulted to both of them running off screaming.

Cast
Guest Starring
Absent