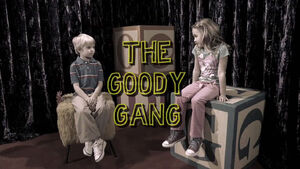 The Goody Gang
is a popular kid's show
Tawni
and
Chad
starred on when they were six-years-old.
Cast
Trivia
Despite having the same last name, Tululah Goody and Woody Goody were not related.
This show was only mentioned in episode 17 of the first season of Sonny with a Chance,"Guess Who's Coming to Guess Star.
The show's title is a parody of The Brady Bunch.