Tales From the Prop House is the fifteenth episode from season 1 of Sonny With a Chance. It aired on August 2, 2009.
Plot
When the cast of
So Random!
went into panic after experiencing several tremors,
Marshall
came into the Prop House declaring that some parts of the studio were undergoing construction.
Tawni
and
Grady
were at first delighted, thinking that the studio was finally giving in to all of their demands, when Marshall informed them that the Prop House was going to be taken away from them. They started to reminisce about their sketches, the
Check It Out Girls
in particular, when
Chad
suddenly entered the Prop House and started measuring around the room. He told them that the Prop House was going to be the new
MacKenzie Falls' Meditation Room
, due to what Chad called the "keep the cast of the number one show happy" clause in their contract with
Condor Studios
. When Chad came back later on to get rid of all things funny and start constructing their new meditation room, the cast of
So Random!
decided to stand up to him and show solidarity by cuffing themselves to Gnomey and to each other. Not even a few minutes after they started, Grady told them that he forgot to go to the bathroom, which made them remember one of their other sketches,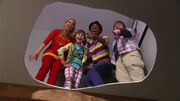 Dolphin Boy
. After two hours of being hand-cuffed to each other,
Sonny
came up with the idea of becoming extremely annoying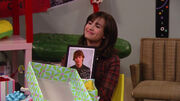 neighbors in order to drive The Falls out after remembering
Annoying Girl
, one of their sketches starring
Zora
.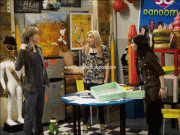 They managed to chase away the cast of MacKenzie Falls by cutting a hole in the ceiling and annoying them by throwing various objects onto their heads. When they threaten to throw down a toilet, Chad started to meditate in the photo booth, but he ended up running away because of the rat that lives in it, and the cast of So Random cast got their Prop House back. Chad came back in later to give them apology gifts, giving Tawni a Bedazzled Lip Gloss Case, giving Zora a night light for the sarcophagus, and giving Sonny a signed picture of him. The episode ended with Nico and Grady driving a forklift through the wall after Chad let them take it for a spin.
Sketches
Sonny with a Chance Tales From The Prop House

Dolphin Boy
Annoying Girl
Cast
Guest Starring
Trivia
The episode title is a reference to "Tales from the Crypt", a old horror show from that ran from the late 80's into the late 90's.
Nico knocking down the prop from the wall wasn't supposed to happen, but the editors kept it in the episode anyway (the scene was seen in the Sonny With A Chance Blooper video).
This is the last episode to feature the character Portlyn.
Chad gave Sonny her an autographed photo of himsellf.
When Chad is giving Sonny her present,you can see Tawni making 'Bleugh' noises in the background.
Chad knew the Randoms well enough to give them presents that they liked.
Chad was kind enough to give the prop house back.
Chad seemed nice in this episode
Chad gave presents to the So Random! cast.
Chad realized the Prop House meant more to the Randoms than to him.
The episode features many sketches, which is similar to the So Random! specials in season 2 but not in the sketch format but just a remembrance version of it.
"Annoying Girl" isn't shown in other episodes except this.
This is one of the few times Chad is nice to the Randoms