Sonny in the Middle

Chad and Sonny in the Prop House
Series
Sonny With a Chance
Season
1
Episode number
19
Airdate
November 8, 2009

(DVD release: August 25, 2009)

Written by
Lanny Horn

Josh Silverstein

Directed by
Eric Dean Seaton
Prod. code
113
# US viewers upon premiere
3.3 Million
Episode chronology
← Previous
Next →
"Hart to Hart"
"Cookie Monsters"
Image gallery (1)
"Sonny in the Middle" is the seventeenth episode of Sonny With a Chance. It was released on DVD August 25, 2009, and later aired on November 8, 2009.
Plot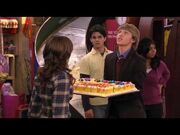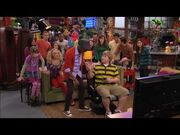 The episode starts out with Grady and Nico practicing a sketch called "Garry and Larry". While they were heading to the Prop House, they start talking about how excited they are to see
MonkeyCars 3D
. They then open the doors of the Prop House to reveal a "surprise" party for their birthdays. Nico and Grady became very excited when Sonny surprised them with the X9000 Gaming Chair. Chad pops in and starts making fun of the party that Sonny has arranged. She does her best to not let him to get to her, declaring that she has "brought the gift of joy," turning around only to see Nico and Grady fighting over the chair. Chad takes off with the cake and the guests soon follow him out of the Prop House while Nico and Grady continue fighting over their gift.
At the same time Zora convinces Tawni to go with her to see "Giraffes on Ice" since Sonny is still dealing with the Grady and Nico fiasco. When they come back, Tawni is horrified because "Giraffes on Ice" wasn't a skating show but rather an animal morgue. Zora manages to trick Chad into taking her to see Giraffes on Ice too, by telling him she wants ICE cream. Back at the Prop House, Grady and Nico are still fighting the chair when Sonny gets fed up with them and ends up confiscating it. Grady and Nico continue to fight, to the point that their "Garry and Larry" sketch was affected. After Sonny was subjected to all the things Nico and Grady used to do together, she decided to stop giving them what want and start giving them what they hate. She took Grady to watch Five Weddings and a Wedding and Nico The Sisterhood of the Traveling Secret Princesses instead of watching MonkeyCars 3D. The guys ran into each other at the concession stand, made up, and ended up seeing MonkeyCars 3D together. At the end of the episode, the whole cast of So Random!--plus Chad--watched MonkeyCars 3D.
Sketches
Cast
Guest Starring
Trivia
The title is a parody of Malcolm in the Middle.
The mirror that Sonny gave Tawni in the flashback was the same mirror she used in "West Coast Story" when she was nervously waiting for her cast mates to hound her about her conversation with Chad.
This episode was first released on the Sonny With A Chance DVD and was later released on Disney Channel.