"Sonny at the Falls" is the third episode of the first season of Sonny With a Chance that aired on February 15, 2009.
Plot
The cast members of
So Random!
get jealous when Brenda (the lunch lady) serves them bad cafeteria food while the cast of
MacKenzie Falls
dine on lobster and steak. This is because
MacKenzie Falls
is Brenda's favorite show. In an attempt to relieve the
So Ramdom!
cast's bad mood,
Sonny
introduces a new sketch she wrote about
lame superheroes
, but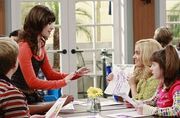 instead of cheering them up, they mock her and make fun of her idea.
Chad
decides to take advantage of this after hearing how
So Random!
has gotten more popular after Sonny joined the cast and he devises a plan to drive a wedge between Sonny and her castmates by inviting her over to The Falls. Sonny gets caught by her cast mates when they decide to barge in to ask Chad how to get a steak from the lunch lady. Things take a turn for the worse when Zora finds Sonny on the massage table and the rest of
So Random!
ban Sonny from the Prop House. After being banned, Sonny decides to hang out full time at the Falls. The next day at lunch, she sits at the
MacKenzie Falls
table instead of the usual table where the
So Random!
cast sit. When
Zora
,
Nico
,
Grady
and
Tawni
enter the cafeteria, Sonny pretends to laugh and enjoy herself. Tawni gets jealous of Sonny eating lobster, saying that she was lobster-worthy as well, until Zora slaps her and tells her to snap out of it. The cast of
So Random!
tries to show Sonny that they are having fun even without her after seeing her laugh at the
MacKenzie Fall
s table. They think that Sonny is still their friend, until they see that she is wearing the
MacKenzie Falls
uniform. They decide to try to apologize her and ask her to come back. Zora decides to storm into the
MacKenzie Falls
set in order to talk to Sonny, only to find that all of the
So Random!
cast except Sonny were put on the "Do Not Admit" Wall, along with Zac Efron. After Zora reports what happened, Tawni experiences caring, and so they decide to get Sonny back. The
So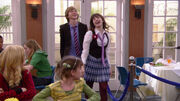 Random!
cast dress up as the lame superhero characters that they previously rejected.
Portlyn
reveals Chad's plan to separate Sonny from her friends, and Sonny becomes unbanned from the Prop House and goes back to
So Random!.
Sonny calles herself and the cast losers.
But not without Sonny commanding the So Random! cast members to quickly steal the snacks from the MacKenzie Falls studios.
Afterwards, we see the sketch of Loser Force Five. A thief robs a bank in Metropolopolis, and Robo Baby throws a poop-er-ang (a poop boomerang) at the robber, but it comes back at them.
Sketches
Cast
Guest Starring
Trivia