"Sonny and the Studio Brat" is the tenth episode of the first season that aired on April 26, 2009.
Plot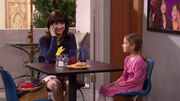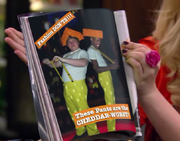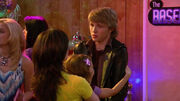 Sonny
decided to spend a day as a tour guide for
Dakota
, an underprivileged child from the
Children Having A Dream
(C.H.A.D) foundation. Nothing goes as planned. She found out that Dakota was a huge fan of
Chad
's and tried her best in order to get him to meet her, but to no avail.
Tawni
, on the other hand, was freaking out because there was no photo of her on the latest issue of
Tween Weekly
. She decided to take matters into her own hands by creating a fictional club called "The Basement" using one the set they use for one of their sketches along with
Nico
and
Grady
, and made
Zora
spread the photos on the internet. When Dakota would not let the Randoms have their elf back, Zora tries to start a fight but Dakota breaks it and they become enemies with a fight. Dakota went on a rampage and tied Sonny to a mannequin and gagged her with a scarf in their dressing room after finding out that Chad would not be on the tour of the studio with them. She is found and released by Tawni (though Tawni dosen't notice the bound and gagged Sonny for several moments)..Sonny was about to tell her off, until they found out that Dakota was the daughter of
Mr. Condor
, the owner of Condor Studios. They later found out that that
Children Having A Dream
was in fact a made-up foundation by Dakota, and that the acronym of the so-called foundation stands for CHAD. Chad, after hearing about the exclusive Hollywood club called "The Basement" that the members of
So Random!
got into, agreed to meet Dakota after Sonny promised him a pass into the club. Tawni, Nico, and Grady had no choice but to rebuild "The Basement" after Mr. Condor saw their pictures on the internet and asked them to take him there.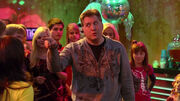 Chad was escorted into the club by Tawni, and was finally forced to meet Dakota in order to keep up his end of the bargain. Chad wanted to dance with other people, but Dakota was clinging to his leg. Mr. Condor came in at the moment that Chad was telling off Dakota. Mr. Condor got mad at Sonny for bringing Dakota into a club, and Chad as well for yelling at his daughter. Chad and Sonny became scared of Mr. Condor, and backed into the wall, causing the set to collapse, and revealing to everyone that The Basement was fake. Sonny made it seem to Mr. Condor that she made the club for his daughter, and was let off the hook. Chad started taking pictures of the fake club after the Condors left, but Tawni blackmailed him as well with pictures of him dancing with Dakota. Sonny made both of them delete the pictures, and the dancing continued.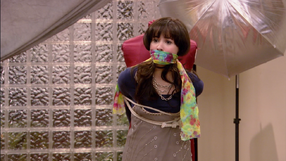 Sketches
Unseen Sketches
Cast
Guest Starring
Trivia/Goofs
The basement set is used as the main "Garry and Larry" set in the episode "Sonny in the Middle".
When Dakota first stands on Sonny's toe, she stands on Sonny's left foot, but when Sonny reacts and says "Ow!", she clutches her right foot instead.
The girl dancing with Nico is Demi Lovato's older sister, Dallas
Sonny was tied up & gagged.
The owner of the studio fired one of his employees for bringing his puppy to work and decided to keep the puppy, but it's unknown why the employee didn't do anything but cry since that was technically stealing.