"Sonny With a Chance of Dating" is the ninth episode of Sonny With a Chance that aired on April 12, 2009 and guest starred Kelly Blatz as James Conroy.
Plot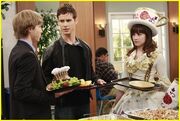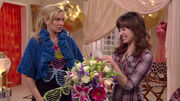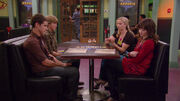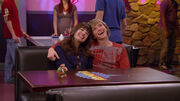 Sonny
was getting her lunch in the cafeteria, when
James Conroy
, the week's guest star on
MacKenzie Falls
, came over and flirted with her. Chad comes over to see what they where up to and has that little fight with Sonny, which makes James think things. Then James asked Sonny out on a date, to which Sonny said maybe. Sonny then excitedly told
Tawni
that James asked her out, and Tawni freaked out, warning her that her best friend dated him once and she ended up wearing polyester pants. James called Sonny and asked her out again, to which she said yes after getting charmed by the flowers he sent. Meanwhile,
Nico
and
Grady
were planning on putting their head underneath the yogurt machine. The two got caught by
Murphy
, but not before Nico had a chance to put his head under the machine.
Tawni then came over to the set of MacKenzie Falls to tell James to back off Sonny, but ended up telling Chad to pass the message. Chad was a little shocked by the news and Tawni called him out for caring about Sonny, but he denied it unconvincingly. Tawni and Chad then crashed James and Sonny's date. While they were playing air hockey, Sonny found out that the "best friend" that Tawni was talking about was Tawni herself. James, talking about Tawni, remarked: "She is so cute when she's angry!" Chad, thinking that he was speaking of Sonny, agreed, saying: "Sonny's always cute! She can't do anything without it being cute." Then he reprimanded himself, as though he were embarrased to have admitted it. Neither Sonny nor Tawni ever heard it. Meanwhile, Zora convinced Nico and Grady to take her as their lawyer in order to plead their case to Murphy, and they ended up having to do six hours of community service.
After the date, Tawni received flowers from James thinking that they were meant for Sonny. In order to get back at James, Tawni formulated a plan in order to give James a taste of his own medicine. Sonny went on a fake date with Chad, at the same arcade where Tawni was going on a date with James. Sonny and Chad were in the middle of their fake date when Nico and Grady came over to interrogate them about their date, and Sonny admitted to them that it was fake. Chad, though, seemed to be enjoying having Sonny's head on his shoulder, and remarked that it was nice, quickly amending by adding: "In theory." James almost found out the plan after he heard Nico saying that Chad and Sonny were on a fake date, but Sonny managed to fool him by fake kissing Chad. James wanted to break up with Tawni so that he can go after Sonny again, but Sonny and Tawni both ended up dumping him. He ended up returning Chad's phone and rolling away. Nico and Grady were unable to get their mushy because the machine went out of order, but Grady managed to get a shot at the froyo machine during one of their community service shifts. Murphy still ended up catching both of them.
Sketches
Unseen Sketches
Life of the Boston Tea Party

Cast
Special Guest Star
Guest Starring
Trivia
Sonny told Chad that their "date" would be their last fake date. This is not true because they had another fake date in "The Heartbreak Kids".
This is the only episode in which James appeared.
There is a Teenage Mutant Ninja Turtle figurine on the table at which Sonny and Chad are sitting.
Sonny and Chad were each able to accurately guess the title and synopsis of the episode/sketch the other was filming for his/her show.
The episode is being referenced in some Season 1 episodes.