thumb|link=Sonny With a Chance (previously known as "SketchPad!," "Welcome to Mollywood" and ''Welcome to Holliwood") is a Disney Channel Original Series that premiered on February 8, 2009. The series is about a fifteen-year-old girl named Sonny Munroe (Demi Lovato) who is cast in a popular sketch comedy called So Random!. The series follows Sonny, her mother (Nancy McKeon), and new friends in Los Angeles and at the studio.
A spin-off series which focuses exclusively on So Random! premiered June 5, 2011. It stars all the same cast members with the exception of Demi Lovato. Although Demi left the show, it was thought that she might be a musical guest on the spin-off series. It was thought she'd probably come back in the fourth season, but there was no fourth season.
Plot
The series features a girl named Sonny Munroe from Wisconsin, who moves to Los Angeles after being cast in her favorite sketch television show, So Random!. The storyline follows Sonny, her family and new friends in Hollywood. At the studio, Sonny will do her best to make new friends with the cast of the show, who all seem to like her, except for Tawni, because she does not want to share the spotlight with her. The show also revolves around So Random!'s feud with MacKenzie Falls, a popular teen drama show which stars Chad Dylan Cooper. The series is almost a child-friendly version of 30 Rock, replacing writing for a sketch comedy with being on a sketch comedy. Also, in the pilot the cast of So Random! performs a bee sketch with costumes very similar to the ones used on Saturday Night Live, the show 30 Rock is based on.
Production
The original working title for the series was Sketchpad!, and the original name for the main character was Molly Munroe. The show's title was later changed to Welcome to Mollywood, and then an article in Tiger Beat stated Lovato would be starring in "Mollywood". The lead character's name was then changed Holli and the title changed once again to Welcome to Holliwood. The main character's name was later changed to Sonny Munroe, and the show's title was changed a final time to Sonny with a Chance.
Sonny With a Chance has a show-within-a-show, So Random!, complete with fully-produced comedy sketches. Sonny With a Chance's executive producer Brian Robbins previously produced and created the real-life kids sketch comedy series All That for Nickelodeon.
Gary Marsh, president of entertainment, Disney Channel Worldwide, stated "This series is rooted in one of the core thematic attributes that we stand for, which is following your dream, there also was the opportunity to do a hybrid show." The show began production on September 19, 2008.
So Random! was first called Tawni and Friends.
The logo of So Random! is more "playful" in Season 2.
Characters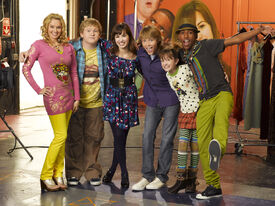 External links
Community content is available under
CC-BY-SA
unless otherwise noted.