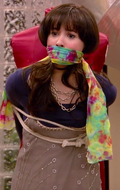 Allison Jade "Sonny" Monroe is the titular character and principal protagonist of Sonny With a Chance. When she made a goofy (but apparently amazing) video and uploaded it onto the Internet, the So Random! crew saw it and wanted her on their show, which coincidentally happened to be her favorite show.
Due to Demi Lovato's decision to leave Disney Channel, Sonny With a Chance has ended, and Sonny Munroe is the only major character who did not return for the spin-off series, So Random!.
Description
Sonny is a beautiful, talented girl who can usually be seen with a smile on her face. In Season 1, Sonny's hair is brown and long and it is occasionally straight. In Season 2, her hair seemed to have turned black and it is more curly than straight. In Season 3, her hair is shown brown again. Sonny is a kind, caring girl who likes to act and her favorite TV show is So Random! She is also childish and geeky.
Personal life
Sonny Munroe was born on August 20th to Connie Munroe and an unnamed father in West Appleton, Wisconsin. Sonny used to dislike her nickname when she was young, but now she thinks it suits her (as she said when she met Chad in "West Coast Story"). Sonny became interested in comedy after watching her favorite show So Random!. She wanted to pursue a career and dreams of being a star when one day, she posted videos on the internet of herself doing sketch/slapstick comedy which caught the attention of the So Random! crew. Sonny was sought out by So Random! after one cast member, Mandy, left.Sonny is a very talented girl she can really rock the stage she knows how to show off her talent although she does not show off she keeps to herself.. her father is in west applenton wisconsin. so she is a distance from him so she calls him mostof the time to hear his voice on  the phone.
In the first episode, when Sonny was called in to be on So Random!, she might have taken the job of the former cast member Mandy, who has been only mentioned once in the first episode. She also plays a guitar (her guitar case was shown in the first episode and behind her during the theme song, and she played it in the episode "New Girl") and sings. She's usually eccentric, goofy and a bit childish, often admitting to do things that may seem strange to others. Friendly, sweet, and caring towards those around her, she is known as the nice girl of the group and does her best to help other people with their problems and achieve her dreams, earning mixed results. Whenever Sonny lies or denies something, her voice rises in pitch (shown in "Battle of the Network's Stars").
Sonny also knows how to drive (heard in Prank'd when she asks the Fashionita caster "do you validate parking?"). Sonny also states that she doesn't like nuts ("Sonny With a Secret"). She's also been to Camp Comedy, as shown in "Sonny With a Grant".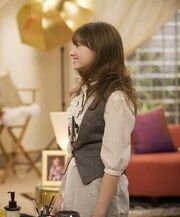 Sonny shares a dressing room with
Tawni Hart
, who made it clear in the first episode that she didn't like Sonny. However, their relationship improves somewhat with time—they are on/off friends. Sonny was on
MacKenzie Falls
in "
Sonny at the Falls
" because she felt like the cast was dissing her when they dismissed her sketch idea. She also happened to have a lot of fan mail which Tawni hid from her. Thinking she had no fans, Sonny invented a fictional fan called Eric and ended up pretending to be her own fake fan. She was also failing math, and was kicked off of one sketch when she was caught cheating.
Even though Sonny and Chad are a bit mean to each other, they seem to have a crush on each other. They share some romantic moments in "Fast Friends", "Sonny With a Chance of Dating", "Promises, Prom-misses", "The Heartbreak Kid", "Battle of the Network's Stars", and "Sonny So Far", among other episodes. They are also now dating as of the episode "Falling for the Falls".
Sonny dated
James Conroy
for a short while in "
Sonny With a Chance of Dating
". In the past, James had dumped Tawni, but developed a crush on Tawni again when he saw her angry. Recognizing him for the jerk he was, Sonny and Tawni both dumped him simultaneously to teach him a lesson.
In "Sonny and the Studio Brat", Sonny had to give Dakota from the Children Having a Dream foundation a tour at So Random!. It turned out that Dakota was the studio executive's daughter, so they had to be nice to her or risk their show's cancellation. Furthermore, the Children Having a Dream (CHAD) Foundation was invented by Dakota so she'd have a way to get into the studio and meet Chad, her secret crush. In "Promises, Prom-misses", Sonny missed her prom in Wisconsin, so she wanted a prom at the So Random! studio. She asked Marshall if she could have one, but he said no, so she decided to have a secret prom, but missed it because she had to distract Marshall to keep him away.
Sonny is known also for writing songs (as first seen in Sonny With a Song and in New Girl ) Sonny has also sang on the So Random Halloween and Holiday Special. (Work of Art and Sing My Song ft. Joe Jonas). In Sonny With a Song , Sonny was known to been a huge fan of British singer and song-writer Trey Brothers before he stole her song "Me Myself & Time", so therefore she was no longer a fan. Sonny wrote "What to Do" in the Season finale New Girl, not knowing that it was about her feelings for Chad. She found it cool if she could perform her songs at the Patio. Except when she performed the song for the first time, she noticed Chad was there and she couldn't do it. Later, she performed the song without Chad watching.
Sonny is also known for meddling into things, sometimes it works out, sometimes it doesn't. Everyone around her calls it "Sonny it Up".
Filmography
Year

Film

Role

Other notes

2009-2012

Various

Comedy Show, Main Role

2009

Prank'd/Celebrity Practical Joked!

Herself

Prank Show, Bystander

Herself

Celebrity News, "Let's Follow the New Girl Around" Story

Herself

TV Movie, Main Role

2010

Gassie and We

Marlene

Film, Main Role

Year

Music Videos

Role

Other notes

2010

Stop S.P.S. feat. Chad Dylan Cooper

Singer

Music Video by Tawni Hart
Personality
As a new cast member at So Random!, Sonny wanted to make her first impression a good one, which turned out to be quite a task when Tawni wasn't the amazing role model Sonny had always imagined. Sonny is often prone to use extreme measures to get her desired outcome, like when she pretended to be her own biggest fan, leading to her tricking the entire cast and even dressing like a guy. Still, Sonny is a nice, caring, intelligent, childish, nerdy, helpful, often goofy, eccentric person, if somewhat naive. It was mentioned in the episode, "Sonny With a Secret" , that she has rescued baby seals from an oil spill, bathed them by hand, and nursed them back to health. She's also got a strong moral standing against lying, as she's not too great at it and usually ends up blurting out the truth, no matter how embarrassing the truth may be.
Publicity
Sonny was well promoted when she was added to the cast of So Random!. She was in Tween Weekly several times. When Tawni and Sonny wore the same dress, Sharona pointed out that Sonny was shining and Tawni was "partly clunky with an 80% chance of shame". Sharona also said that "Sonny's hair is fab, and Tawni's hair is drab", but she compared a picture of Tawni from a "Bad Hair Day" sketch with Sonny's student ID photo (which had turned out remarkably well). Thus, since Sonny started on So Random!, she became somewhat of a celebrity.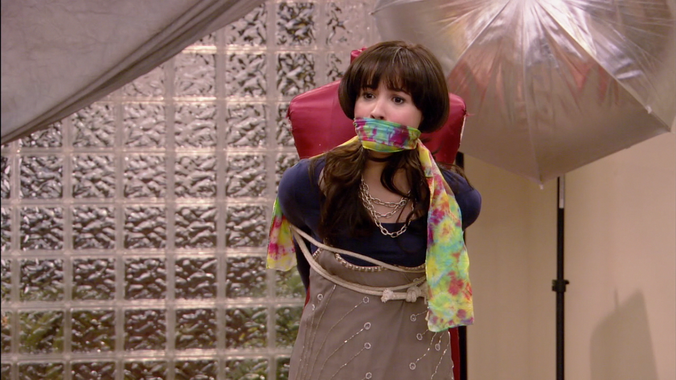 Relationships