"Sonny So Far" is the twenty-first episode in the first season of Sonny With a Chance.
Plot
When Sonny and Tawni are guests on
Gotcha with Gilroy Smith
, they are excited at first. But then
Gilroy
shows them the promo, saying he hopes the girls will reveal something personal and embarrassing. To prevent this from happening, they make a pact backstage to have each other's back so that neither of them will get embarrassed. But Tawni then breaks the pact after Gilroy shows a backstage footage of her and Sonny making the pact. As the show continues, Sonny's mind wanders and she starts to think about Chad Dylan Cooper after Gilroy says, "Do they, Sonny? Do they really?" which is Chad's catchphrase. Sonny starts to think about the time when she danced with Chad for about 10 seconds at the prom ("
Promises, Prom-misses
"). Gilroy sees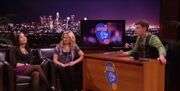 her expression, can tell she's thinking about a boy, and starts questioning her on some of the boys she associates with and her feelings toward them. When he brings up Chad Dylan Cooper, and when Sonny seems to be nervous about it, he brings Chad onto the show. Gilroy shows rare footage of Sonny and Chad from episode 2 ("
West Coast Story
"). Afterward, Sonny pulls Chad backstage, completely unaware about the fact that Gilroy has a hidden camera backstage and he's showing it to the audience. Tawni, who remembers all the things Sonny has done for her and doesn't want Sonny to get embarrassed in front of everyone, turns off the screen right before Sonny and Chad tell each other how they really feel. We don't hear them say they like each other, but it is assumed that they do like each other, based on what they say before and after Tawni turns off the screen. (and how they acted towards each other earlier in the
season). Gilroy grabs the remote back and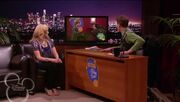 turns the T.V. back on. We see Sonny talking to Chad ("That was...so much easier to say than I thought it would be.") and then she walks away, and Tawni grabs a pencil. The bloopers give the show a twist
The credits in this episode is a blooper reel.
Cast
Guest Starring
Absent
Trivia
References