So Random! is a sketch comedy television series which began as a show-within-a-show (see Sonny With a Chance) and premiered as its own show June 5, 2011. It stars the first member and diva, Tawni Hart, the goofy best friends Nico Harris and Grady Mitchell, the youngest and most mischievous, Zora Lancaster, and the newest cast member, also known as the star of MacKenzie Falls, Chad Dylan Cooper. Tiffany Thornton, who plays Tawni, announced on May 2, 2012 that the show will not be renewed for a second season.
Description
So Random! is similar to other kids' television series such as All That, and The Amanda Show, or a child-oriented version of Saturday Night Live or MADtv. There are many different sketches, for example "Dolphin Boy" to "Mermaid Girl" to "Life at the Boston Tea Party" to "Baby Waa Waa".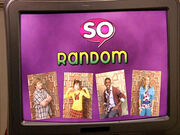 So Random!
began as a show-within-the-show--a fictional show which existed within the universe of
Sonny With a Chance
. Sketches were shown here and there, but most
Sonny With a Chance
episodes focused on plot and characters, in typical sitcom format. When Demi Lovato, who played the titular character, left Disney Channel,
So Random!
became its own show.
Rivalry with MacKenzie Falls
MacKenzie Falls (also a show-within-the-show) is a pampered drama show and looks down upon comedies such as So Random!, claiming they do not require real acting. The characters are all quite superficial and vain. In the episode "Sonny at the Falls", Sonny was briefly a part of the MacKenzie Falls cast. This happened after she pitched an idea for a sketch to her castmates, but it was rejected, so they left her all alone at a table. Chad then came over and took her to "The Falls" to see how much better MacKenzie Falls is. Her cast came back and impressed her so much, she rejoined them.
MacKenzie Falls won a Tween Choice Award up against So Random!. The So Random! cast took their award and used it as a toilet paper holder. But Chad stole it back in "West Coast Story". Despite the prominent rivalry between shows, it is clear that the So Random! cast watches MacKenzie Falls frequently, however they rarely admit it.
Episodes
Main article: So Random! Episode Guide
Sketches
Dolphin Boy - Grady plays a character who is half dolphin and half boy; he squirts water when nervous. The tagline is "Who Da Mammal?".
Chicken Sketch - Never seen. In it, Grady was an egg and Nico was a chicken.
Queen Bee Sketch - Never actually done. Written by Tawni, this sketch starred her as the queen bee. It got dropped to be replaced with Sonny's sketch.
Bumbling Bee Sketch - Also was never actually done. Written by Sonny, this sketch would have had Tawni play a bumbling bee who was easily distracted and who stung an old lady.

One Bad Bee - Sonny's first sketch. This was performed as a rap. Tawni was not featured in this sketch.

Fasty's Really Fast Food - Grady works at a place where they sell very fast food, meaning the food is thrown at the costumers
Madge the Waitress - Sonny dresses up as a fat waitress with a southern accent, large figure, and tall wig who takes orders. Tawni teases her, "You're in a fat suit?"

Loser Force Five - A sketch about lame superheroes written by Sonny. At first it was rejected by the rest of So Random!, but in the end it was used.
So You Think You Can PP Dance? - A parody of So You Think You Can Dance? where contestants try to dance despite needing to go to the restroom. The host torments the contestents by talking about water. Also called "America's Got Gas."
Baby Waa Waa - Never seen. Sonny wears a bonnet and a diaper and holds a very large bottle. Marshall mentioned her spitting up on the changing table. Her catch phrase is "Waa waa waa."

Check It Out Girls - A sketch made by Tawni and Sonny where they work at a grocery store and say "Check out his/her..." and insult each customer. They have two sketch episodes. This is one of the most prominent and frequently appearing sketches seen as well as Sonny's favorite.

The Bully-Proof Backpack - Advertising a backpack you can use to punch bullies.
The Hair Salon - This sketch about a hair salon worker (Sonny) from Wisconsin.
Wicked Witch of the Web - Parody of the Wicked Witch of the West in "Wizard of Oz," written to make fun of Sharona in "Poll'd Apart".
Bad Hair Day - This is a sketch about a girl (Tawni) having a bad hair day. It was mentioned in "Poll'd Apart".

Granny Slam - A fake-wrestling match between grannies played by Nico and Grady. They brag about when their grandkids call , ect.
Life of the Boston Tea Party - Chad guesses this right before James asks Sonny out. In this sketch, Sonny is a teapot. James nicknames her "Teapot."
Sally Jenson: Kid Lawyer - A character played by Zora who is a lawyer.
The Basement - Nico mentions it when Tawni says they're going to use the set to pretend that they got invited to a hot, teen club opening.

Cheese Pants - There is a picture of Nico and Grady wearing cheese pants and Nico says it is a picture of them from a sketch.
The Prom - Marshall guesses that Sonny is thinking of doing a prom sketch when he sees her twirling around in a pretty dress. Sonny and the rest of the cast later actually think of doing a prom sketch.
Mermaid Girl - This is the dress Sonny wears to keep Tawni happy.
Princess Girl - This is the dress Sonny wears that angers Tawni.

Scotland's Top Model- This is a sketch about a Scotland fashion show. Tawni, Sonny, and Nico dress up in skirts and Grady is the announcer.
Gassie the Toot'n Pooch - A sketch featured in "Battle of the Network's Stars", "Gassie Passes" and "Prank'd". The sketch is about a dog who uses gas to communicate and save the day.This a parody of Lassie.
Dog Sketch - Sonny once played a dog in a sketch, and she got so into character, she ate her own homework.
Annoying Girl - A sketch featured in "Tales From the Prop House". It's about a girl who randomly annoys people.

MacKenzie Stalls - A parody of Mackenzie Falls, this sketch was first shown in "The Legend of Candy Face." Grady plays MacKenzie.
Toenail Sketch - A sketch that Tawni was about to perform before hurting herself Tawni was the fairy.
Sicky Vicky - A recurring sketch. (it has been featured in "Walk a Mile in My Pants", "Gummy with a Chance" and "A So Random! Holiday Special", served a main plotline in "Sonny with a Secret") A girl named Vicky is constantly at home ill in bed, making disease related objects (phlegm paintings, etc.) to entertain herself. A girl named Alex Buzarski always seems to come into school with diseases, thus making Vicky ill. Her catchphrase is "Not cool!".
Hula Sketch - A sketch that is only shown in rehearsal in the episode "Walk a Mile in My Pants". This sketch features the cast dancing the hula.

HottiE.M.T. - A sketch that guest starred Chad Dylan Cooper, featured in the episode "Guess Who's Coming to Guest Star". In this sketch, Chad played an E.M.T. so hot girls hurt themselves just to meet him.
Garry and Larry - A sketch about two best friends hosting from their basement, where a bear appears to roam. Featured in the episode, "Sonny in the Middle".
The Real Princesses of New Jersey - A sketch about the three princesses living in New Jersey.
The 98th Annual Elderly Choice Awards - A sketch about how difficult it is for elderly people to make a choice. Featured in the episode, "Random Acts of Disrespect".
Pinata Girl - A sketch that has never seen, but is supposedly about a girl (Tawni) who is a pinata. Apparently Grady tried to beat Tawni until all the candy came out. Mentioned in "Hart to Hart".
The Rappin' Pirate - A sketch that has never been seen, but is supposedly about a rapping pirate played by Nico. Mentioned in "High School Miserable".

Dumb Blond Frozen Dinners - A sketch that stars Tawni about dinners so simple that even a dumb blond can make them. Rehearsed in the episode "Hart to Hart".
Making Babies Cry - A sketch/song featured in the episode "A So Random! Halloween Special" about a young man who enjoys making babies cry.
Guest Stars
Musical Guests
The Cast of So Random!
Trivia
In the original pilot, Tawni and Friends was the original title for the sketch comedy show. It was later changed to So Random!.
Sonny has been in the most sketches since the start of Sonny With a Chance.
In 2011, due to Demi Lovato's recent rehab check-in, Sonny was written out and replaced with Chad Dylan Cooper for reasons yet to be explained and hasn't mentioned his lead role on Mackenzie Falls.
On May 2, 2012, Tiffany Thornton revealed that So Random! has been cancelled.
External links
Community content is available under
CC-BY-SA
unless otherwise noted.