"Sketchy Beginnings" is the first episode of Sonny With a Chance. Its first airing was on on February 8, 2009. It is about how Sonny Munroe flies to Hollywood and meets the cast of So Random!. At first, it is hard, but Sonny kept on trying.
Plot
Sonny excitedly enters Stage 3 and is greeted by Marshall, the executive producer of So Random!. He takes her to the Prop House, where she finds 12-year-old cast member Zora hiding in a sarcophagus. She then meets
Nico
, who is dressed as a chicken, and
Grady
, who is dressed like an egg. A few moments later, she meets her idol,
Tawni Hart
, who takes Sonny on a tour around the studio at Marshall's insistence. After the tour, when Tawni learns from Marshall that she and Sonny have to share a dressing room, she tells Sonny that she isn't wanted or needed in
So Random!
Later, the cast of
So Random!
is called to practice Tawni's Queen Bee sketch. After Marshall says he thinks that
the sketch is terrible, he turns to Sonny for ideas. Sonny suggests making Tawni a bumbling bee that is easily distracted by flowers, instead of having her play a queen bee, causing the entire cast (excluding Tawni) and Marshall to laugh. Marshall approves of Sonny's idea and scraps the Queen Bee sketch altogether, replacing it with Sonny's bumbling bee sketch. An upset Tawni walks out on Sonny. Sonny's mother advises her to talk to Tawni, and so Sonny brings a stuffed animal as a peace offering for Tawni. Tawni decides not to accept Sonny's apology, shredding Sonny's peace offering right in front of her. Sonny and Tawni finally start to get along better when Sonny tells Tawni that she wanted to learn from her, and that she thinks Tawni is the prettiest and funniest girl on the show. Things get worse again, however, when Tawni accidentally stabs herself with one of the bee stingers for the bee costumes in her frustration and Sonny tears Tawni's cape to wrap up Tawni's hand and it was her favorite bee cape, Sonny then asks "How many capes do you have". When Tawni's stuffed animal
Puddy Two-Shoes
accidentally gets shredded, Tawni decides to complain to Marshall about wat happened in the dressing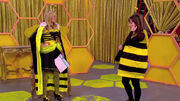 room. Wanting to fix things with Tawni, Sonny asks Marshall to reinstate the Queen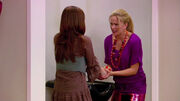 Bee sketch, but he refuses, as he thinks the Bumbling Bee sketch is much funnier. When Tawni chooses not to do the sketch at all, Sonny decides that she doesn't care what Tawni thinks anymore and comes up with an entirely new sketch,
One Bad Bee
, which doesn't include Tawni. Sonny's new sketch is a big hit when it goes on air. However, when Marshall tells Sonny to say goodnight, she accidentally hits Tawni at the end of her speech.
Back in the Prop House, Grady and Nico tell Sonny that first time they starred in a sketch, they hang a prop from the sketch in the Prop House. She then hangs a hat with bee antenna attached to it on a plastic alien's head. After the boys leave, Sonny begins dancing, only to be spotted by Zora, who happily yells from the sarcophagus, "Sweet! I'm no longer the weird one!" Sonny, who is at first embarrassed by what she had just been spotted doing, eventually smiles and walks out of the prop house.
Sonny feels more welcome at the end of this episode. Everyone welcomes her with open arms except Tawni, but eventually she gets used to her.
Sketches
Unseen Sketches
Chicken Sketch - Never seen. Grady is the egg and Nico is the chicken.
Queen Bee Sketch - Never actually done, but a sketch made by Tawni in which she was a queen bee.
Bumbling Bee Sketch - Also was never actually done, but a sketch made by Sonny in which Tawni was a bumbling bee that was easily distracted.
Barf Sketch - Though never seen, parts of it are mentioned. Grady played the barf, Nico played the stomach and Zora played the toilet.
Cast
Guest Starring
Absent
Trivia
This is the very first episode of Sonny With a Chance and the only one to feature Puddy.
Before Sonny, there was another cast member of So Random! named Mandy. According to Marshall, they said goodbye to Mandy on their last show before Sonny coming. Though, at the beginning of the episode, the So Random! poster is shown without Mandy's picture on it. This could mean they filmed an episode in-between Mandy leaving and Sonny coming.
This is also the only episode Mandy was mentioned.
Tawni's cat, Puddy, was never replaced by a new one, even though Marshall said he would buy Tawni a new Puddy.
Sonny claims to have gotten her sense of humor from her dad.
Chad Dylan Cooper did not appear in this episode, as he didn't appear until the next episode "West Coast Story", which aired immediately after this episode.
The pink outfit Tawni wears in this episode, is later worn by Chad in "Falling for the Falls Part 2".
Sonny's headshot that Tawni is doodled on and threw darts at in a flashback was one of Demi Lovato's headshots from her 2008 movie, Camp Rock.
In the US, this episode is paired together with "West Coast Story"
Sonny looks a lot different in the scene before the intro from the other parts of the episode. Her hair in the scene before the intro is a darker brown, her skin tone is the same but she looks a lot more different. This is also her first day at the studios.

Community content is available under
CC-BY-SA
unless otherwise noted.