Selena Gomez (portrayed by herself) is an actress who Chad hires to play Sonny in a movie/biography about his life.
Character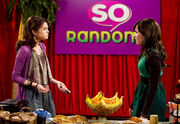 Selena is an actress who is friends with Chad. He introduces her to
Sonny
when he hires her to play the part of Sonny in a TV movie about his life. Selena decides to follow Sonny around so she can get to know Sonny better and play her character honestly. Selena concludes that Sonny and Chad like each other after seeing their interactions. While rehearsing for the movie, Selena kisses Chad, thinking that Sonny would want to kiss him. Sonny mocks her theory by telling her she acts like a "relationship wizard".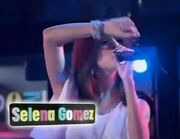 Later, Chad hires Sonny to play herself in the end and Selena leaves saying, "I don't need this! I was in Camp Hip Hop!." She once more appears in an upcoming So Random! episode singing Who Says.
Relationships
Selena annoys Sonny by repeatedly bringing up Sonny's attraction to Chad, which Sonny denies. Sonny even makes fun of Selena, calling her a "relationship wizard." Still, when Selena quits Chad's movie and storms off of the set, Sonny comments, "She seems nice. I should call her," so it appears that her conflict with Selena was centered more around Chad and the movie than Selena herself. It's not entirely clear what Selena thinks of Sonny, but she does finally get fed up with Sonny's and Chad's behavior and quits the movie. It is unknown if Selena and Sonny will become friends, however Demi and Selena were friends for 10 years after it ended. In 2011, the two rekindled their friendship. Selena and Demi are now friends, but not BFF's like they used to be.
Selena is a little annoying she always tells Sonny stuff about chat cause she knows that she has feelings for him so she takes advantage of her love for him i dont really like when she does that cause its not really nice .
Chad and Selena seem to have a friendly relationship, since Selena cheerfully agreed to play the part of Sonny after Chad texted her about it. However, Selena later gets fed up with Sonny's and Chad's behavior, and quits Chad's movie.
Filmography