Selena Gomez
Birth name
Selena Taylor Gomez
Born
July 22nd,1992 (age 21)


Grand Prairie, Texas USA

Genre(s)
Pop rock, latino, dance
Occupation(s)
Actress, singer
Instrument(s)
Vocals, guitar
Years active
1994 - present
Website
Official website

Selena playing herself on Sonny With a Chance.
Selena Marie Gomez
(born July 22, 1992) is an American actress and singer best known for her portrayal of
Alex Russo
on the Emmy Award winning Disney Channel Original Series,
Wizards of Waverly Place
. She has starred in the television movies
Another Cinderella Story
and
Princess Protection Program
. She also starred in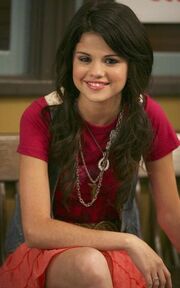 Ramona and Beezus
as Beezus.
Before Disney, she had one of the kid roles on Barney & Friends. In 2008, she signed a record deal with Hollywood Records and contributed to the Tinker Bell, Another Cinderella Story and Wizards of Waverly Place soundtracks. Her band, Selena Gomez & the Scene, released their debut studio album Kiss & Tell on September 29, 2009, which was certified Gold by RIAA on March 5, 2010.
After meeting Demi Lovato at the age of seven, the two were close friends for years. Demi revealed in July 2012 that the girls are not as close as they used to be. At the 2012 Teen Choice Awards, held on Selena's 20th birthday, July 22, Selena completely avoided her former BFF. Her BFF now is country rocker Taylor Swift. Swift thinks of 21-year old Gomez as her little sister.
Selena Gomez loves Eminem, Nicki Minaj, Katy Perry and Justin Bieber. She was very excited for Eminem/Dr. Dre Grammy Performance.
Relationships
Selena has been romantically linked to David Henrie, Taylor Lautner, Nick Jonas, Cameron Quiseng, Mark Sailing, and Justin Bieber.
Relationship With David Henrie- Actor David Henrie dated singer Selena Gomez for only a few weeks, in the late summer of 2007. They began dating in August of 2007 and broke up in September of 2007. The pair were costars in Selena's hit show, 'Wizards Of Waverly Place'. The show was on Disney Channel from October 2007 to January 2012.
Relationship With Nick Jonas- Nick Jonas and Selena Gomez got together shortly after Nick and Miley Cyrus called it quits. It was one of the things that sparked rumors of rivalry between Cyrus and Gomez. However, Selena and Nick called it quits that same year. The duo began dating in 2008-present. The two hardly ever see each other. Selena and Nick revived their romance in 2010 when Nick went on tour with his band. But it was over again a few months later, with both sides saying that their careers just got in the way.
Relationship With Taylor Lautner- Selena Gomez and Taylor Lautner got pretty cozy for awhile, with Gomez spotted shopping with Lautner's younger sister. The two met up when they were both in Vancouver. Taylor was filming New Moon and Selena was filming Ramona and Beezus. However, the pressure of the media became too much for them, causing them to split up.
Relationship With Cameron Quiseng- Selena Gomez and Cameron Quiseng were spotted bowling together and Cameron was very complimentary of Selena in interviews. Quiseng is the bassist for the band Allstar Weekend. They dated from March 2010 to April 2010.
Relationship With Mark Sailing- Actress Selena Gomez might have been dating 'Glee' actor Mark Salling. Apparently Gomez was keeping in close touch with the hunky TV star during the 2010 Teen Choice Awards in early August 2010. A friend revealed to RadarOnline.com: "They were texting during the awards, even though Selena was seated in the front row and Mark was backstage co-hosting. Every time Mark came up on stage, she was beaming ear to ear." They dated in August 2010.
Relationship With Justin Bieber- Rumors that Justin Bieber and Selena Gomez were dating began in late 2010, but they heated up in January, 2011 when photos showed the two with their arms around each other while basking poolside in Mexico. They made their public debut as a couple at the Oscars after party in February 2011. After a rough patch in June and July 2012, the duo are currently still together. For Selena's 20th birthday on July 22, 2012, Biebs surprised his Disney Princess with a party of 30 guests at a restaurant in Beverly Hills. Justin went all out for his girlfriend planning her a party she would never forget. On November 9, 2012, Bieber was in New York City for the 'Victoria's Secret Fashion Show', where he was performing. Backstage, he posed for a picture of himself, a friend, and in the very back was model, Babara Palvin. When Gomez saw the picture on Bieber's Twitter account, she retweeted it with the caption, "...". The next day on November 10, it was widely reported that the duo had ended their relationship. On November 16, they went out for an attempted reconcilation dinner. Within 10 minutes of being at the restaurant, Gomez stormed out, Bieber at her heels. When they arrived in seperate cars at Gomez's home, Bieber was denied entry by Gomez, leaving him frustrated and going back to his car and leaving. The next night, Gomez was spotted out with BFF, Taylor Swift, all smiles. Swift reportedly told Gomez to get back together with the 'As Long As You Love Me' singer. The country cutie reminded Gomez about how happy the 18-year old made her, and how happy she makes him. Gomez must've given the Biebs another chance because 2 days later, at the '2012 American Music Awards', Bieber and Gomez showed up at the after party together, arm-in-arm, confirming they were back together. They were fine up until December. Bieber was in the recording studio recording his album, 'Believe Acoustic', which hit stores and online on January 29, and Nick Jonas was at the studio as well recording the comeback Jonas Brothers album, due out sometime in 2013. The two singers played ping-pong. When Gomez found out about Bieber befriending her ex, she was in tears. She kept on calling and texting him, but, Bieber never answered. This caused Bieber and Gomez to break up again. However, they must've gotten back together yet again because they, along with Bieber's friend, Lil Twist, headed to Puerto Valarta, Mexico to celebrate New Years. On December 30, Bieber and Gomez had a blowout fight, causing Gomez to leave. Bieber reportedly told Gomez, "Don't let the door hit you on the way out." Gomez's mom persuaded the 'Love You Like A Love Song' singer to come home, and that's just what she did. Since the split, Bieber has tried whatever he could to get the Disney Princess back, but, she's not interested. As soon as the butt-grabbing photo of Gomez and co-stars, Vanessa Hudgens, Ashley Benson, and Rachel Korine from the film, 'Spring Breakers', hitting theaters March 22, hit the web, Bieber hit Instagram with a butt-baring picture with the caption, '#moon', obviously targeted to Gomez. On his acoustic album, he wrote a song for her, 'Nothing Like Us', in an attempt to get her back. On February 2, Gomez was spotted leaving Bieber's home with suitcases, leading media speculation that they had gotten back together. They did not get back together. On March 18, 2013, when Gomez was on 'The Late Show With David Letterman', Gomez revealed that she is single. She revealed in the interview that she made him cry, as did David Letterman the last time Bieber was on the show. They were on-and-off all through 2014 before breaking up late 2014. In November 2017, they got back together.
Filmography in SWAC
Gomez played herself in the episode "Battle of the Network's Stars". In the episode, her role is somewhat a "relationship wizard" as described by Sonny. She appears in "Camp Hiphop'"' on the TV in the So Random prophouse tv. She returns in an upcoming So Random! episode as herself. But, it is unknown if she plays really herself or the same character in her first episode. In the upcoming episode, she sings Who Says.
External links
Gallery