"Promises, Prom-misses" is the eleventh episode of Sonny With a Chance; it first aired on May 3, 2009.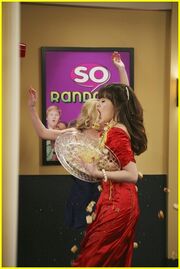 Plot
Sonny
became upset about missing her prom in Wisconsin after her friends sent her some pictures, and she asked
Marshall
if she could throw her own prom for all the shows on
Condor Studios
, but he refused. Sonny, due to the urging of her castmates, decided to throw a prom anyway and keep it a secret from Marshall. While Sonny was preparing for the secret prom, she had an argument with
Chad
, who said that he and the rest of the cast of
MacKenzie Falls
thought that it was a dumb idea, so she officially uninvited Chad and the rest of his cast. The
So Random!
cast were on their way to prom when Sonny got caught by Marshall and made her go to his office. When Sonny went to Marshall's office, he told her that he was ecstatic that she came up with a prom sketch.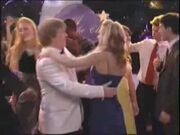 The two sat there talking about the prom sketch, which was about a girl who got stuck in the office while she can hear the prom going on, the prom that she has waited her whole life for, in order to distract Marshall from the other prom-ers. She was saved by
Nico
and
Zora
, who managed to drive Marshall off the lot by saying that he won a prize from a radio station due to his new GPS. Sonny was about to go to prom when
Tawni
told her that they ran out of food, and made her fetch some more. She was about to get into the prom, when suddenly,
Grady
's date came out of nowhere and crashed into her, splashing mustard all over her dress. Sonny changed into a princess dress in one of
So Random!'
s costumes closet, but Tawni became angry at her and accused her of trying to steal her crown, so she changed into a mermaid outfit in order to keep Tawni happy. Sonny was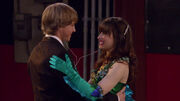 about to enter her prom when Zora came to her saying that Marshall is coming, because he found out about Zora messing with his GPS. Sonny allowed herself a few seconds of her prom before telling everyone to leave because Marshall is coming back.
They cleaned up the set in a hurry, and pretended to be practicing a prom sketch when Marshall came in. Marshall said that they worked too hard, and told them that he allows them to have a real prom and that they can do it in the So Random! set. Sonny was alone after everyone else left the set, until Chad, who said that he had to attend the prom because he was uninvited, walked up to Sonny and told her that not all proms end in disaster. He brought out an iPod and danced with Sonny, who thought the gesture was sweet, while Chad claimed that he does have his moments. They were later joined by the cast of So Random!.
Sketches
The Prom - Marshall guesses that Sonny is thinking of doing a prom sketch when he sees her twirling around in a pretty dress. Together, they come up with the idea that the sketch is about a girl who's missing her prom. It's unknown of they ever actually made the sketch.
Cast
Guest Starring
Trivia/Goofs
In the scene where Chad gets food from Sonny and squishes the food, you can see that when Chad got the food, there is a lot of food in one plate. But, after that, there is a fast shot at Chad, and you can see that Sonny has three pieces of food on one plate left.
This episode is one of the episodes that features slow motion (when Sonny walks into the Prop House with her prom dress on and when she spins), the others being "High School Miserables" and "Sonny With a Secret".
Apparently, Marshall should have known about the prom because there were flyers around the studios.