"Prank'd" is the fourteenth episode of Sonny With a Chance. It first aired on July 5, 2009. The episode premiered to 5.2 million viewers, which was the highest documented audience of Season 1.
Plot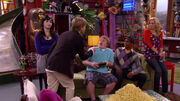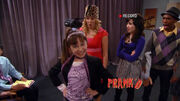 Chad
came into the
Prop House
with a copy of the week's
Tween Weekly
, where Sonny and Grady found out that they were making a movie about their favorite superhero,
Fashionita
. Chad then pointed out that he came there to tell them about his new show,
Celebrity Practical Jok'd
, and warned them that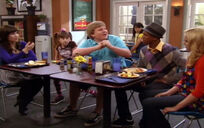 they may become victims after they mocked him. Later that day at the
cafeteria
, the director of Fashionita called Sonny, telling her that she got an audition.
Grady
and
Nico
then pranked each other because they wanted to prank the other before they got pranked by him.
While Sonny was practicing for her audition, Tawni came inside the dressing room commenting on how she should have gotten an audition instead of Sonny. Sonny then told her that she only got an audition because Chad recommended her, so Tawni told her that the audition might be a prank, because Chad never does nice things just to be nice. Sonny decided to prank the casting director before he could make a fool out of her. When Tawni, Nico, and Grady saw Chad at the cafeteria instead of being at Sonny's audition, they found out that the audition is in fact real. When Chad realized that Sonny blew her audition, he decided to up the ante & warned them that his pranks will be one hundred times worse than what he was planning.
Tawni paid Chad so that he'll recommend her so that she can audition for Fashionita. When Nico and Grady witnessed her conversation with Chad, they thought that she was the one in cahoots with Chad. They decided to prank her, but ended up getting caught in their own trap, which involved a net and some Cocoa Moco Cocoa lipstick. when Sonny called Chad to make him stop, she found out that Chad decided to prank Tawni with a fake audition, getting inspiration from Sonny's own. Sonny, Grady and Nico decided to save Tawni from being pranked by Chad, but were too late as they came in when Chad was announcing the prank. Chad was confused as to why Tawni wasn't cover by fish guts when he came out, when Zora came out to announce that Chad is not the one hosting the prank show but her. She then proceeded to prank Chad by gluing him to the floor and face to the window while watching his convertible get filled with elephant manure.
Quotes
Zora - "What is this? An episode of 'The Stupidest Catch'?
Sketches
Cast
Guest Starring
Andrew Abelson as Director
Trivia
This is one of the episodes that was unlocked on Disney.com by counting how many times they said "princess" (or variations of the word) in the movie Princess Protection Program.
The episode title is a reference to the show "Punk'd", a celebrity prank show created by Ashton Kutcher.
Zora's new show "Celebrity Practical Jok'd" is a parody of "Punk'd"
It is hinted that Sonny knows how to drive. She asks the Fashionita caster "do you validate parking?".
Even though there are flashbacks, in the first one, Zora is in a coffin. Question is....How did she get upstairs? It is possible she has a secret space in the coffin, as seen in Gassie Passes where the boys try to get inside it.
Apparently Chad knows alot about the Randoms because when he was scaring them about pranking them, he opens the sarcaufagous and points on Zora.
It is unknown who told Chad he was the host.