"Poll'd Apart" is the seventh episode of Sonny With a Chance.
Plot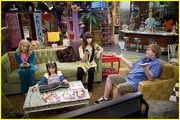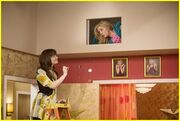 The gossip blogger,
Sharona
, blogged about
Sonny
and
Tawni
wearing the same dress and said that Sonny looked better in it than Tawni. To make matters worse, she made another post comparing Tawni's "drab" hair to Sonny's "fab" hair. Tawni became so depressed that she symbolically shaved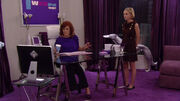 her head (wore a bald cap). In order to cheer her up (but it obivously didn't), so Sonny went down to Sharona's office to tell her to stop blogging about Tawni, but only ended up worsening the situation because she mentioned Tawni wearing a bald cap.
Nico
and
Grady
started competing for the passenger seat in Chad's new convertible by showering him with food and gifts.
Sharona kept on blogging about Tawni even after Sonny talked to her, and so they decided to fight fire with funny and Sonny made a sketch to make fun of Sharona (Wicked Witch of the Web). Sharona saw the sketch and sent them threatening meat, saying that the shouldn't come to the Oh No You Di'nt Awards. On another side of the studio, Chad decided to milk Nico and Grady's competition longer, but ended up deciding not to take either of them to the Oh No You Di'nt Awards anyway.
Tawni and Sonny informed the whole cast about Sharona's threatening meat. They were all terrified, but due to Sonny's idea, they decided to go anyway and exact their revenge upon Sharona. They decided to wear the same clothes as Sharona. She threatened to blog them into oblivion, but was horrified when Sonny told her that if they don't care about what she thought, she has no power over them. She became so mad that she fell into the decorative pond behind them. In the end, it was shown that Nico and Grady took out the battery of Chad's car and filled it with donuts, making him unable to attend the Awards show.
Sketches
Unseen Sketches
Cast
Guest starring
Trivia
Tawni Hart's dress in "Guess Who's Coming to Guest Star" can be seen hanging at the back of Sharona's office door.
"The Wicked Witch of the Web" is a parody of the Wizard of Oz's Wicked Witch of the West. Another parody on the Wizard of Oz other than the sketch was that Sharona was "defeated" by getting wet by falling into a water pile just like the Wicked Witch.
This is one of the episodes where Nico and Grady pull a prank on Chad.
Nico and Grady outsmart Chad in "Poll'd Apart" and Gummy With a Chance. Note: "Poll'd Apart" is the seventh episode of Season 1, while "Gummy With a Chance" is the seventh episode of Season Two.
This is the only episode that Sharona stars on and is mentioned. This might mean that she was banned from writing lies.
The car license plate that was on Chad's car says 2SAQ321.
Sharona appears to be obsessed with the color purple.
Goofs
In this episode, Sonny says that the Coco-Mocho-Coco is discontinued, but in other episodes, they still make Coco-Mocho-Coco.