"New Girl" is the Season 2 finale of Sonny With a Chance. This episode premiered on January 2, 2011. This is the series finale of SWAC due to Demi Lovato quitting the series. A spin-off series premiered June 5, 2011. Demi Lovato has said in people magazine that she is not returning that it would not help her recovery.
Plot
The So Random! cast members are in the prop house trying to come up with a new sketch for the show. Someone suggests to make a sketch about a girl and a boy breaking up. Sonny asks if they could just drop it already, so the rest of the cast offer the idea to make a sketch about "Bunny", a nice girl who has her heart broken by the evil Brad Milin Dooper. Tawni adds, "Who runs like a girl." They all mimic Chad. Sonny says that they don't need to make a revenge sketch, but that he does run like a girl. Sonny mimics him but on her way out, but she bumps into Chad. Chad tells her he's looking for his sunglasses from the time they had the date on the beach. Sonny tells him "If you'd let those sunglasses have their moment in the sun, they wouldn't have broken up with you." Chad runs off like a girl.
At her apartment, Sonny writes a song, when the neighbor upstairs complains about the noise level. Sonny apologizes about the thin walls. The neighbor says that's why she could hear every screeching note. Sonny says she'll show her screeching. She jumps yelling when the Randoms come into her apartment. The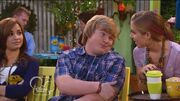 Randoms talk about their new hangout:
The Patio
, a local coffee house. They visit the hangout by running to there like Chad. Sonny notices that there's entertainment here, so she fakes getting a drink when she secretly asks an employee, if she can sing her songs there. Mel asks about the "feet on the table guy," and Sonny tells her that he's Grady. Mel continues with her work, telling Sonny where the sign up sheets are. Mel runs off, saying "Feet off the table, Grady." to him. He becomes excited, saying "She knows my name!" Later Sonny's at her house singing when the neighbor yells she's tired of that song. Then someone knocks the door. It turns out it's Chad looking for his hat from the time they were dating. Chad notices Sonny wrote a song, so he steps in and screams with her guitar, "Chad Chad Chaddy Chad Chad!" (a song that was introduced in another episode.) Mel, from upstairs, yells,"SHUT IT!" Chad looks at Sonny, believing it was her who had complained, and says in a sad tone, " You used to love it when I sing." Sonny replies, "Chad, that wasn't me it was my new neighbor upstairs!" Sonny screams up at the ceiling, "Who do you think you are?!" The new neighbor asks if she has to come down there, and Chad screams back. Someone knocks the door, and it appears to be Mel. Mel and Sonny are surprised that they are neighbors. Sonny says " Your shut it girl" and Mel says" Your won't shut it girl". Chad come out of nowhere and said " Ah, so your the one giving lip to my lady, you know that used to be my job." While Sonny is giving him a what the heck seriously look. Soon Sonny says to Chad " If you must know this is Mel she's a waitress from the Patio," Then Mel gives him a sign that says hi.Sonny continues and says to Mel " and this is Chad My EX." Chad thinking she said MA EX says" Oh Ma ex I like that one." Sonny says " No, No I didn't say Ma EX I said MY EX as in MY EX which is leaving MA apartment." Which just makes Mel say " OK " awkwardly.Then Mel begins telling Sonny how she took her singing spot at The Patio. Mel claims that she should give her the time back because her crowd wouldn't like her music anyway. Chad goes all up in Mel's face and says, "REALLY?" Sonny deals with it, and Chad continues, "Not only "your crowd" will love Sonny's music, they'll give her an extra standing ovation."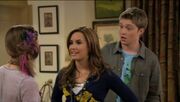 They make the bet that if Sonny manages to receive a standing ovation, she will win thirty dollars. And if she doesn't, Mel will win the money.
And so the Randoms visit The Patio the next day to watch Sonny sing. Grady sees Mel, and asks Nico to hide him. Nico says to relax, but Grady says she possibly likes him, and something weird, that he doesn't want to talk about, will happen if she possibly like him. Mel announces Sonny's performance. Sonny say a bunch of lame jokes, but surprisingly the crowd keeps cheering and laughing. When about the sing, Sonny realizes that the people sitting in front of her were from Mackenzie Falls. She suddenly realizes something strange is going on and notices Chad behind a moving tree. Chad comes out and explains that he paid professionals to come out and cheer for Sonny. Mel is disappointed that Sonny cheated to win the bet. Sonny asks how Chad could do this to her. Chad answers that he just wanted her to have the recognition she deserved. Sonny says that she knows Chad means well in all he does, but it never ends well. She asks him to stop trying to help her. She leaves The Patio.
In the Prop House, Sonny accuses the So Random! cast of obsessing over Chad, although they are merely trying to offer up non-Chad related ideas. Later Sonny stops by Mel's apartment, owing her the money she won for the bet. Mel tells her that the bet is still on because Sonny never was able to sing. She also says that she will happily take her money when she actually wins the bet. They begin to argue. Eventually, Sonny helps Mel rearrange her furniture.
At The Patio, Grady sees Mel and starts talking with an accent, revealing that his nervous tick is that he has an alter-ego as a Scotsman named "Shamus McGregor." Sonny prepares for the performance, then Tawni talks to her that what she's doing is like jumping off a plane with no bubbletrumps parachute. Sonny says that's not helping. Mel announces Sonny's performance once more. Sonny gets up and starts to sing, but Chad comes out and Sonny can't sing her song, in front of Chad. She leaves, handing her guitar to Mel. Chad calls after her.
Sonny goes back to her apartment, when someone knocks the door. It's Mel, who has brought Sonny her guitar. She talks with Sonny, revealing that she knows that the song Sonny wrote is about Chad and that is why she couldn't sing it in front of him. Sonny thinks she's ridiculous and agrees to analyze the lyrics with her to prove that she's wrong. As Sonny reads each line, Mel proves to her that they are all about Chad. Mel finally says that Chad's still in Sonny's system, and she has to deal with that.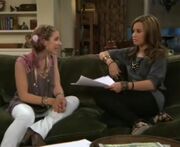 At The Patio, Sonny finally sings her song. Sonny receives a standing ovation, winning the bet.
The next day, Sonny and Chad run into each other in the studio. Chad comments on her performance, "Heard you killed it at the coffee house. Sorry I couldn't make it." Sonny says, "Maybe it was for the best." Chad later says,"Well, see 'ya around?" They begin their typical "Good. Good. Fine. Fine." dialogue before Chad walks away. Sonny watches him leave before walking off in the other direction, singing quietly, "Tell me what to do ooh about you, I already know what I can see in your eyes ,When you're telling the truth."
In the ending credits, at The Patio, Nico convinces Grady to talk to Mel, So Grady orders a drink, making a fool out of himself. The episode ends with Mel saying to herself,"He's such a DORK... I love him!"
Trivia
This is the eighth time Sonny sings on Sonny With a Chance.
This is the fourth time Chad sings on Sonny With a Chance.
Mel is the new character that Tiffany Thornton and Sterling Knight had talked about in several interviews.
Sonny sings "What To Do".
This is the second time "Bunny" is mentioned. The first was in "My Two Chads".
Sonny had blonde highlights in this episode.
This is the last episode of SWAC, but the spin-off So Random! will focus on the sketch-comedy show-within-a-show So Random but without Demi Lovato
There is possibly an alternate ending to this episode, since in the stills, it shows Chad singing to Sonny to get her back.
There is a poster of "Rock Camp" next to the counter in the scene where Sonny asks for a chance on the stage. It is a reference to the movie "Camp Rock"
Cast
Absent
Guest Starring
Note
This is the final episode of SWAC, but So Random! succeded the series on June 5, 2011.
References