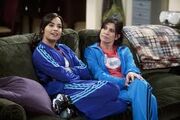 Nancy McKeon
Birth name
Nancy Justine McKeon
Born
Born April 4, 1966 (age 44)

Westbury, New York

Occupation(s)
Actress, director
Years active
1980–present
Nancy Justine McKeon (born April 4, 1966) is an American actress. She is best known for her role as Jo Polniaczek on the long-running NBC sitcom The Facts of Life.
Biography
Early life & career
McKeon was born in Westbury, New York to a show business family; she and her brother Philip did numerous commercials. She also appeared on the soap operas The Secret Storm and Another World. The McKeons moved to Los Angeles in 1975, when Philip got a job as Linda Lavin's son on the television series Alice.
In 1979, McKeon was discovered by a casting director for The Facts of Life after a performance in a Hallmark greeting cards advertisement. She was cast as tough and independent tomboy Jo Polniaczek, and debuted on the show in the fall of 1980. She once dated Michael J. Fox, and they remain friends. This would be her most famous role and her shot to stardom; she would play the role until the show was canceled in 1988. McKeon also provided the voice for many ABC Weekend Special cartoon characters, including the voice for Scruffy.
Later career
Since then, McKeon has starred in many made-for-TV movies, most notably A Cry for Help: The Tracey Thurman Story, in which she portrays an abuse victim. She starred in her own series, Can't Hurry Love, in 1995, which lasted only one season, and which had Mariska Hargitay in a comic role, a few years before Law and Order: Special Victims Unit. In 1998, she starred in another failed sitcom with Jean Smart titled Style & Substance. McKeon played Inspector Jinny Exstead on the Lifetime police drama The Division from 2001 to 2004. Her pregnancy was incorporated into the storyline of the last year of the series. Previously, she starred in the movie The Wrong Woman, as a woman framed for killing her boss. Recently she starred in the film Comfort and Joy. McKeon also has a recurring role in a new Disney Channel Original Series, Sonny With a Chance, as Sonny's mother Connie Munroe. McKeon married key grip Marc Andrus in June 2003, and in March 2004 gave birth to their daughter Harlow, Aurora.
Community content is available under
CC-BY-SA
unless otherwise noted.