James Conroy (Kelly Blatz) was a guest star on MacKenzie Falls and Tawni Hart's ex-boyfriend.
Biography
James is a ladies man. He likes going out with cute girls, only to dump them from a distance later. In "Sonny With a Chance of Dating" , he guest stars on MacKenzie Falls, which led him into meeting Sonny at the cafeteria. He seems to treat women as objects, for he dumps and dates whenever he wants, and he doesn't care if he hurts anyones feelings along the way.
Eventually, James decides he wants to re-date his past girlfriend Tawni. He dumps Sonny, leaving her furious. Tawni, Sonny, and Chad devise a plan to get back at him. Sonny and Chad go on a fake date, making James want Sonny back again. But before he was able to dump Tawni, Tawni dumped him. Sonny chewed him out for his horrible treatment of his girlfriends, leaving James dumbfounded.
Not used to being in that situation, James ran out of the arcade. It's unknown if he'll ever come back.
Personality
In James' only appearance, he is seen to be a "dumper" and not the kind that gets dumped. He claims that he cannot be dumped, he's the one that does the dumping "from a distance" (ex. He dumps Tawni through an e-mail). James does not appear to be very confident in himself because if he was he would have been able to dump all his girlfriends up close. He panics he is not in control of (ex. He is unable to stop Sonny and Tawni from dumping him up close.). James also has a tendency to want things he cannot have (ex. He wants Sonny as soon as he realizes that she is with Chad now).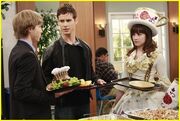 Relationships
James and Tawni once dated. But James dumped her, causing her to get depressed and start wearing polyester pants.When she hears that Sonny is starting to date him, she gets sort of jealous and tries to get her out of the relationship to protect her. While dating Sonny, James had sparked a renewed interest in Tawni again, but was weirded out by her clingy behavior while with him. Tawni got back at James for his "date and dump" ways by helping Sonny with her fake date.
James dated Sonny for a brief period of time. He got her to go out with him by sending her flowers, and gifts, but he dumps her shortly after in order to get Tawni back. Sonny then got back at him by fake dating Chad, making it appear that she had gotten over him quickly. This made James want Sonny back, but she refused to date him again.
Trivia
James does have a cell phone but he uses Chad's phone in the whole episode only to get Sonny's number.