Guess Who's Coming to Guest Star

Check and Mate, muah!
Alternate title(s)
"Sonny With a Chad"
Series
Sonny With a Chance
Season
1
Episode number
17
Airdate
September 27, 2009
Written by
Michael Feldman
Steve Marmel
Directed by
Eric Dean Seaton
Prod. code
108
# US viewers upon premiere
4.168 million
Episode chronology
← Previous
Next →
"Sonny in the Kitchen with Dinner"
"Hart to Hart"
Image gallery (0)
"Guess Who's Coming to Guest Star" is the seventeenth episode of Sonny With a Chance that aired on September 27, 2009. This episode is also known as "Sonny With a Chad" as it was called in its promo.
Plot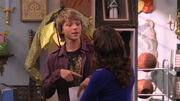 Tawni and Sonny were excited to know that
Jackson Tyler
of the Tri-Dark saga would be coming to guest star in
So Random!'.
Due to unknown circumstances, however, he had to cancel, and Marshal brought Chad onto the
So Random!
stage instead. After Sonny came back with Chad's sammich, Chad warned Sonny that she will fall in love with him by the end of the week, just like all of his other leading ladies. On another side of the studio, Nico and Grady were given free reign over Marshall's office for the entire week, because Chad would be using their dressing room instead. They of course started abusing it despite Marshall's severe warning.
During their first rehearsal, Chad kept on insisting that Sonny would fall in love with him by the end of the week. According to him, she'll start getting nervous, stumble, dream about him, get lost in his eyes, and that she'll finally get hooked after they kiss. Sonny didn't take it seriously until she had a dream about Chad running lines with her carrying two tubes of lip balm only for him to show up like that a few moments after she wakes up. She asked Tawni for advice, who told her to wear a sombrero. Chad, however, saw through this plan and made her take off the hat, and she ends up getting lost in Chad's eyes anyway. Marshall then went up to them and said that he was going to rewrite the sketch, ending it with a kissing scene instead.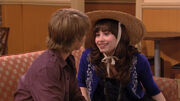 Sonny came to Tawni in order to convince her to do the sketch instead, which she agreed to. However, when Nico and Grady failed to give Tawni a new stock of her Cocoa Moco Cocoa lipstick, she decided to not do the sketch anymore. Sonny then had no choice but to do the sketch with Chad. Before the show started, Nico and Grady apologized to Marshall for abusing his office and made him hold the pig that they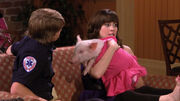 got after ordering pigs in a blanket, only to get an actual pig in an actual blanket. During the sketch itself, Marshall accidentally dropped the pig into a trampoline, where it flew right onto Sonny's lap. Sonny made the pig kiss Chad instead of her, and the sketch ends. The pig later ends up having a dream about Chad, just like he said Sonny would.
Sketches
Cast
Absent
Guest Starring
Trivia