"Fast Friends" is the 8th episode of Sonny With a Chance that aired on March 29, 2009.
Plot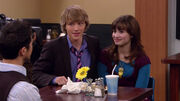 Sonny
was interviewed by
Tween Weekly TV
's
Santiago Heraldo
for being the new girl in town.
Chad
, in order to stop all the negatives that he was getting due to a previous puppy-shoving incident, decided to use Sonny's interview to make himself look good. He decided to crash Sonny's interview in the cafeteria, pretending not to notice the interviewer, and started acting nice and thoughtful to Sonny. Meanwhile,
Nico
and
Grady
were trying to raise money to buy the newest gaming console, the Ybox 4000. They decided to sell
Tawni
's trash in the internet in order to make money when they realized their previous venture didn't work.
While Sonny was being interviewed in her dressing room, Chad stopped by to show Cupcake, which he said was one of the 'hungry' dogs he feeds in his spare time. Once Santiago mentioned that the camera got broken, Chad turned to leave immediately. When Sonny realized that Chad was using just her interview to make himself look better, she got really angry at him. She started yelling at him, Santiago coming back with a new camera just in time to witness the interaction, making everyone view her as an 'out of control' diva. Nico and Grady, meanwhile, became busy with getting stuff used by Tawni, and ended up sweeping most of Tawni's things in the dressing room.
When Chad refuses to help Sonny's reputation, she decided to fight fire with fire. She crashed Chad's interview on building dog houses, but instead of raining on Chad's parade, she ended up appearing as an 'over competitive' diva. When they were alone, Chad said that Sonny was too nice, and that he was too good at pretending to be nice, only to find out that Sonny recorded their conversation with a camera in her hat. Impressed, Chad gave Sonny props and said they should hang out sometime, and Sonny says he can stop acting since the camera is off, with Chad replying he knows. Nico and Grady got caught by Tawni selling her stuff, after she noticed that they got richer and richer when more and more of her things started disappearing, and she punished them by making them do her patented bite, wipe and gloss on her.
Sketches
Cast
Guest Starring
Absent
Trivia/Goofs
Sonny states that "Team" spelled backwards is "Meat", while in reality it spells "Maet". Whether or not it was Sonny's mistake or the writer's mistake is unclear.
In the credits of this episode, Santiago's last name is spelled "Geraldo", though on Tween Weekly online, his last name is spelled as it is pronounced, "Heraldo".
The Ybox 4000 video game system is a parody of the real life video game system The Xbox.