Dakota Condor (Genevieve Hannelius) is a little girl who was crazy about Chad Dylan Cooper.
She is the daughter of Mr. Condor, the owner of Condor Studios, which is the production company for So Random! and MacKenzie Falls.
Biography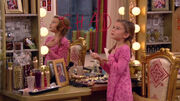 Dakota posed as an underprivileged girl from the fake "Children Having A Dream (CHAD) foundation in "Sonny and the Studio Brat."
She had the whole cast of So Random!, minus Zora, fooled by her charade. She got a tour of So Random! from Sonny, but it was quickly made evident why she was there: she wanted to see Chad Dylan Cooper.
Upon discovering Dakota's deviousness, Sonny became angry, but quickly faked a positive attitude when Mr. Condor walked in and it became clear Dakota was his daughter.
Multiple times, Sonny tried to get Chad to hang out with Dakota, but each time he refused.
He eventually agreed to it, but only if he could gain access to "The Basement," a Hollywood club invented by Tawni, Nico and Grady to prove that they could get into cool clubs.
Dakota and Chad met there, but she wouldn't stop stalking him even to the point of making him dance with her. 
Dakota seems to disobey her father because she was crushing on a star when she was actually not allowed to. She is not really allowed to watch MacKenzie Falls either, but she still does.
Sonny tried to get to know the nicer Dakota at first, but Dakota made it clear to Sonny that she was evil when she left Sonny bound and gagged in the dressing room.
It is unclear why the cast of So Random! did not tell Mr. Condor that Dakota was watching MacKenzie Falls and crushing on Chad.
Dakota's biggest enemy is Zora Lancaster, who sniffs then cries out, "EEEEEVIL!" whenever Dakota approaches. They often get into fights with the cast of So Random! restraining the two.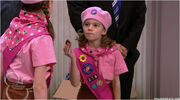 Later, she appears in "Cookie Monsters" where she finds out Zora wants to win the record for selling the most Blossom Scout cookies and Dakota determines to beat her.
Zora teams up with Sonny and Dakota teams up with Chad and Zora wins in the end when Dakota thoughtlessly sabotaged herself with poor behavior.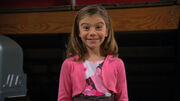 In "Gassie Passes", she invested in Nico and Grady's and Zora's fart noise lunch boxes for "Gassie & We". When Zora found out, she said "EEEVIL", and Dakota called her a "freak show."
The two got into another fight and Grady commented that Zora is like a ticking time bomb.
When Zora was about to attack Nico and Grady, Dakota restrained her (the only time the two ever agreed).
In "High School Miserable", in a dream she became a new cast member on So Random!, much to the dismay of the other cast members.
She stole Sally Jenson, angering Zora and also stole Sicky Vicky and Nico's Rapping Pirate Sketch. She also sings opera and tap dances.
In "Sonny With a 100 Percent Chance of Meddling", she is the star of Nico and Grady's film, Sharkota in which they show her to be angry at everything.
In "Dakota's Revenge," it is her birthday and she demands that all of her father's employees (except for Zora) attend or else he will fire them.
Her father plans to give her the bike she has always wanted for her birthday, but she steals it from Izzy's prop room prior to her birthday party which results in it being destoryed by Sonny and Tawni.
Dakota is eventually sent home early from her party for looking at her present early.
Appearances
Trivia
Dakota is a big fan of Chad which lead her to have a crush on him also.
She most occurs on the show in season two.
Her dad Mr. Condor considers her an "Angel" according to Dakota in "Sonny and the Studio Brat." It is unknown if after "Dakota's Revenge" she is still trusted after stealing her bike.
Almost everybody does everything she tells them to do.
Dakota's worst enemy is Zora.
Chad wrote a song for Dakota on her birthday.
It is in fact that Dakota has two or more houses because when her dad sent her home in Dakota's Revenge, she asks "Which house?" and Mr. Condor replies "the one with the partial ocean view."
Dakota was 9 years old in her first appearance which was in Season 1. Then her birthday was in Season 2, so that makes her 10 years old
Sonny tries to be nice to her, but it seems as if she quit in "Dakota's Revenge".
Dakota probably doesn't like Sonny very much since she started dating Chad.
Dakota watches MacKenzie Falls but is not allowed to watch as referred in  "Sonny and the Studio Brat."
Dakota has a tendency to suddently shout at people when they don't do what she wants and is quite easy to anger.