Connie Munroe (played by Nancy McKeon) is Sonny's mother. Her mother gives very good advice to her daughter and supports her in everything, although in some instances, she's very fun and active, showing that she can still be childish at heart.
Personality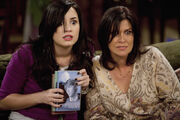 Connie and Sonny have a great and strong mother/daughter relationship, in contrast to Tawni and Tammi Hart ("
Hart to Hart
"). However, in "
Cheater Girls
", Connie says that if Sonny doesn't improve her grades, she is not doing the show showing that she wants her daughter to exceed.
Connie tends to look after Sonny as if she is still a child. Sonny says that her mom buys some of her clothes for her (her jeans in ''Walk a Mile in My Pants and t-shirts with funny sayings on them) and unusual gifts (like a mop in Hart to Hart). She also gets excited when something big happens to Sonny and wants to listen in on Sonny and Chad's conversations in "Falling for the Falls" (see also Channy). Later in that episode, she also helps Sonny out by attempting to cover for Sonny after Sonny's friends realize Connie doesn't have a broken ankle like Sonny said ("Are you sure she didn't say broken uncle? Cause he's in pretty bad shape"). This has been Sonny's excuse for not being able to make pizza night, to keep her friends from discovering her secret date with Chad.
Connie becomes a MacKenzie Falls fan in "Falling for the Falls" and gets Sonny hooked too, which is an act of betrayal against the other So Random! cast members. Later, though, Sonny find out that her friends have all been hooked on the Falls as well at one time or another. Connie showily puts a few of her MacKenzie Falls DVDs in the trash to try to comfort Sonny after Chad hurts her. She is always there for her, and gives her an uplifting pep talk in "Sketchy Beginings", when Tawni's attitude has gotten Sonny down. Her mom still smothers her a bit, but understands her very well. She trusts Sonny to be responsible, which Sonny appreciates very much.
Appearances