"Cheater Girls" is the fifth episode of Sonny With a Chance. It first aired on March 1, 2009.
Plot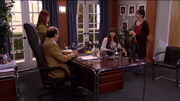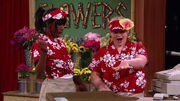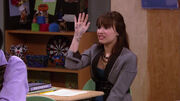 Sonny
and
Tawni
are working on a sketch called "
Check It Out Girls.
" The two are finally getting along, and are excited about the sketch, even going so far as envisioning Check It Out Girls merchandise, including lunchboxes, which turns out to be a big dream of Tawni's. Their aspirations are shredded when Sonny's mom,
Connie
, learns that Sonny is doing poorly in math. Sonny got a D on her test, and Connie tells
Marshall
that unless Sonny manages to pull her grades up, Sonny cannot be on the show. The only way to for Sonny to do the sketch is by passing a major Geometry test.
Nico
, meanwhile, develops a crush on one of the stage hands of
So Random!,
so he and
Grady
decide to buy a snake to scare her and catch her in his arms, after Zora advises them.
Worried that she will not pass, Sonny tries to find a way to ensure that she won't fail. Tawni suggests cheating, but Sonny quickly shoots the suggestion down and recruits Zora to help her study. Sonny, however, is unable to focus due to too much excitement for the sketch, until Zora gives up on teaching her. Desperate to pass the test, Sonny writes down the answers on her hand, intending to cheat. However, before the class begins, the guilt overwhelms Sonny and she drops the act and admits that she was planning on cheating. After the class, Nico and Grady are about to execute the plan concerning the snake that Zora had suggested, however, they realize that the snake is huge and frightening, and they end up making complete fools of themselves.
Both Tawni and Sonny are removed from the sketch after Marshall finds out that Sonny almost cheated and that it was Tawni who suggested cheating in the first place. He decides to make Nico and Grady do the sketch instead, although the characters' genders would remain unchanged. Tawni and Sonny blame each other for their getting removed from the show, until Sonny starts insulting Tawni with geometry. She and Tawni then decide to retake the test after finding out that Sonny in fact learned a lot when she was writing down the answers on her hand. After retaking it, they find out that they passed the test, and are about to go onstage when they get locked outside of the studio. They decide to pass through the scaffolding above the stage, and are about to give up after seeing Nico and Grady start the sketch when the snake that Nico and Grady set loose slithers onto Sonny's shoulders, and she ends up dropping it onto the counter on the stage and sabotaging the sketch. Tawni and Sonny are then able to take over their sketch, but have to deal with the snake.
Sketch
Cast
Guest Starring
Absent
Trivia