Battle of the Network's Stars

Chad and Selena in front of Sonny
Series
Sonny With a Chance
Season
1
Episode number
13
Airdate
June 7, 2009
Written by
Michael Feldman
Steve Marmel
Directed by
Eric Dean Seaton
Prod. code
116
Guest starring
Selena Gomez
# US viewers upon premiere
4.0 million
Episode chronology
← Previous
Next →
"The Heartbreak Kids"
"Prank'd"
Image gallery (0)
"Battle of the Network's Stars" is the thirteenth episode of Sonny With a Chance. Wizards of Waverly Place star Selena Gomez guest stars as herself.
Plot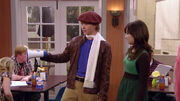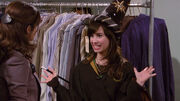 Chad was making a TV movie about his life: Chad Dylan Cooper: The Chad Dylan Cooper Story, and he needed people to play the cast of So Random!. Sonny managed to convince him to allow them to play themselves. He agreed to let them play themselves, with the exception of Sonny, whom he made audition for the role. When Sonny stormed out of the audition in anger, she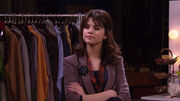 met Selena on the way out, only to discover that Chad asked Selena to play the role of Sonny. Meanwhile, Nico and Grady got rejected by fake Tawnis, and met their look-alikes who managed to get a date with the same fake Tawnis, so they decided it to befriend them to learn how to get girls.
Sonny became annoyed at Selena when she kept following Sonny around the set and commenting about her personality and looks onto a recorder. During the filming of the scene where Sonny barged into the Mackenzie Falls set (see "West Coast Story"), Selena kissed Chad during a scene because she said that she wanted to play Sonny's character honestly. Sonny accused Selena of being a "relationship wizard", an expert on how people feel about each other. After the argument between the two girls, Sonny went off and dressed up as a wizard in order to mock her, but it ended after Selena said Sonny shouldn't tick her off because she could make Sonny look bad. Selena then hired Sonny to be her "Sonny consultant", to stop Sonny from bugging her. Meanwhile, Fake Grady hit on Tawni, which resulted in Tawni slapping Grady because she thought Grady was the one hitting on her. Nico and Grady decided to get back at the fake Nico and fake Grady by angering one of the Tween Gladiators and made the fakes seem like they were the ones who threw food at him.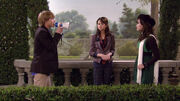 During another filming at the MacKenzie Falls set, Sonny and Chad had another argument, until Selena finally declared that Chad and Sonny should never be together, after which Chad admitted after a while that he though Sonny's hair was pretty and Sonny admitted to thinking Chad has sparkly eyes. The two got back at Selena and she left, but not before declaring that they are perfect for each other and that she did not need Chad's movie because she got into Camp Hip Hop. Nico and Grady pretended to be the fake Nico and fake Grady respectively so that they could date the fake Tawnis.
Sketches
Sonny with a Chance Battle of the Networks' Stars with Selena Gomez

Gassie the Toot'n Pooch - A sketch following the adventures of a dog with gas problems.
Cast
Special Guest Star
Absent
Trivia/Goofs
Edgebono Utosis and Cashmerus Appearus are actual spells from Selena Gomez's Disney Channel Original Series Wizards of Waverly Place.
When Selena enters for an audition for the part of Sonny with Chad, there is a purple board behind her. Look closely, and you can see the name "Demi" on it. When Sonny leaves the room, the name "Demi" is scratched out.
In the scene where Sonny is first dressed as a Wizard, you can see her holding a wand. The wand vanishes after a few seconds.
Demi and Selena are frenemies in this episode, when they were actually best friends in real life while filming this episode, and after a fight, they remained friends.
When Sonny dresses up as "Selena the relationship wizard", this may reference to Selena's show Wizards of Waverly Place. It is also possible that the show exists in the Sonny With A Chance universe.
On the Sonny With A Chance blooper video, David Henrie from Wizards Of Waverly Place made an appearance during a scene. He was also acting like his "Justin Russo" character.
At the end Selena said that she was on Camp Hip Hop which is a reference to Demi's movie Camp Rock.
This episode reveals that Sonny often has bad dreams of being naked on T.V. wearing only a hat.
For Chad's movie only Sonny had to audition for a role which may mean that she had a bigger part than the rest of the Randoms.
This is the first appearance of Selena Gomez as a character as herself in the series. In a season 3 So Random! episode, Selena Gomez sings "Who Says".
Chad's mention of "Scary Potter" to Sonny references Harry Potter, a movie ALSO about Wizards.