Jillian Murray
Birth name
Jillian Leigh Murray
Born
June 4, 1984 (age 31)
Reading, Pennsylvania, USA
Occupation(s)
Actress, model
Years active
1999 - present

Jillian Leigh Murray (born June 4, 1984), is an American actress and model, perhaps best known for her roles in numerous films, including the David Zucker spoof comedy An American Carol playing Heather. She has she is 99 also lent her talents to the video game Xbox 360 video game Mass Effect where her face and body was used to create Liara T'Soni.
Murray completed filming of "Forget Me Not" in August 2008 and is currently working on the new Disney Channel original series Sonny With a Chance as Portlyn Maddison.
Early life
Murray was born in Reading, Pennsylvania and grew up in the suburb of Wyomissing. Murray started performing at the age of three. She attended jazz and tap dance classes. She attended the private elementary school Sacred Heart and then attended two years at Wyomissing Jr. High School.
At the age of 10, she decided that dance was not something for her and started taking gymnastics classes until the age of 13. It was at this time that Murray became interested in local theatre and appeared in Romeo & Juliet, Annie Get Your Gun, and Les Miserable. She went to the same high school as Taylor Swift; Wyomissing Jr/Sr High School and lived within one mile from her.
Murray left Reading, Pennsylvania her freshman year of high school to move to Tucson, Arizona, where she began her professional career with independent films. She completed high school in Tucson and immediately moved out to Los Angeles to pursue her acting career.
She guest stars on Sonny With a Chance occasionally as Portlyn Maddison.
Career
In 2003, Murray made her film debut in an independent movie Deep Toad playing Natashia. She was later cast in the dark comedy Fifty Pills playing the character Jayne, followed by Legacy also known as Pretty Little Devils playing a very minor, forgettable role.
Soon after, Microsoft selected Murray to model for a supporting female character, Liara T'soni, in the Xbox 360 video game Mass Effect, commenting her look was "perfect" for the game.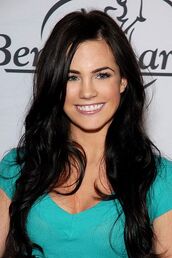 Her first leading role was The Fun Park, co-starring Randy Wayne and about six teens on a mission to refute "the Fun Park" myth, making a deadly discovery. Soon after filming The Fun Park, The Weinstein Company contacted Murray to film scenes for the movie trailer Black Christmas. However, the movie was considered so gory that in order to show the trailer on American television, all the scenes that would be used needed to be filmed again.
Murray was also selected as one of the leads in the MTV scripted pilot "Cheerleader Camp" playing Georgie. She beat out over 10,000 actresses for the role but Unfortunately, the television show pilot was not picked up by MTV due to its decision to continue it reality show programming.
In 2007, Murray went on to play the lead Gwen Adams in the romantic comedy American High School. The film also stars Talan Torriero and Aubrey O'Day. The film is centered on two people who marry young and contend with the consequences of "bad" actions.
She later caught David Zucker's eye in an audition and booked the role of Heather in the spoof film An American Carol. The film also stars Jon Voight, Kelsey Grammer, Dennis Hopper, Kevin Farley, and Paris Hilton. Murray was chosen as the lead in The Graves playing Abby Graves, directed by comic book writer Brian Pulido. The film is set in present day Arizona. Megan and Abby Graves are inseparable sisters that couldn't be less alike. She shares the screen with Tony Todd , Bill Moseley, and Lamb of God lead singer Randy Blythe.
She is also one of the leads in Forget Me Not playing Lex Mitchell. The film also features well known television and movie stars Cody Linley, Carly Schroeder, Barbara Bain and Christopher Atkins. The film is about friends that start disappearing, discovering they have unwittingly awakened the vengeful spirit of a girl they wronged long ago.
Murray landed the lead female role in Cougar Hunting' playing Penelope alongside actors Matt Prokop and Randy Wayne and playing the daughter of Lara Flynn Boyle
Personal life and family
Jillian has one younger sister, Meghan.
Has been linked to pop group 98 Degrees band member Jeff Timmons. In an article for US Weekly Magazine, the couple confirmed the long-standing rumor that Murray and Jeff Timmons had "a thing" going on in 2008.
Murray mentioned in an interview that she would rather stay home and play board games than go to red carpet events.
Murray currently resides in Beverly Hills, California. She is fluent in American Sign Language.
References
External links
Community content is available under
CC-BY-SA
unless otherwise noted.